MyExamCloud Application Privacy Statement
Our Privacy Policy explains:
This privacy statement ("Privacy Statement") applies to the treatment of personally identifiable information submitted by, or otherwise obtained from, you in connection with the associated MyExamCloud App. The App is provided by EPractize Labs Software Private Limited. By using or otherwise accessing MyExamCloud App, you acknowledge that you accept the practices and policies outlined in this Privacy Statement.
WHAT PERSONAL INFORMATION DOES WE COLLECT?
We collect the following types of information from our users:
Personal Information You Provide to Us:
We may receive and store any information you submit to the MyExamCloud App (or otherwise authorize us to obtain – such as, from your Facebook/Google/LinkedIn account). The types of personal information collected may include your full name, email address, and profile picture. We use these information to logon to MyExamCloud App using Facebook/Google/LinkedIn APIs.
Personal Information collected from facebook:
We collect your email address, first name, last name and profile picture from facebook to create MyExamCloud account.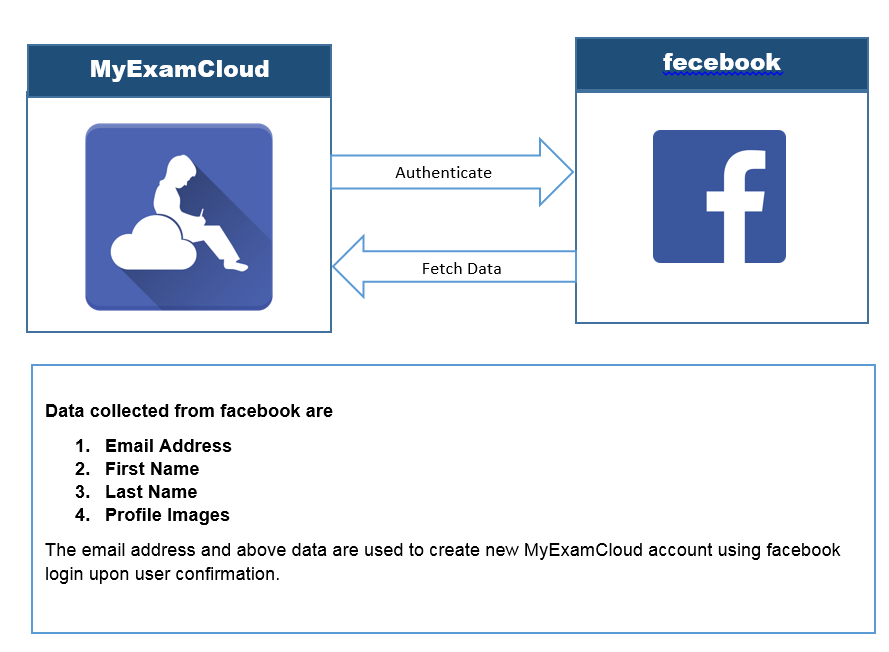 MyExamCloud facebook data removal steps
Data deletion policy for facebook users:

If you want to delete your data from MyExamCloud App, you can remove your information by following these steps:
1. Go to your Facebook Account's Setting & Privacy. Click "Settings"
2. Click Security and Login
3. Look for "Apps and Websites"" and you will see all of the apps and websites you linked with your Facebook.
4. You can find "MyExamCloud" in the app list.
5. Click "Remove". Confirm the Remove action.
6. Congratulations, you have successfully removed your app activities and data from the MyExamCloud App

MyExamCloud Account Delete Instructions
Request for User Account Deletion
We request you to download all your reports and invoices before contacting us to remove your account from MyExamCloud. Just click the support button at the bottom of MyExamCloud App's home screen or contact us by sending email to support@epractizelabs.com.
The process of deleting your account is simple step by MyExamCloud admin and it is permanent removal of your account settings (along with Study Plans). User once removed cannot be recovered since the process is hard delete on database. We do not keep your details after it has been removed from our database.
Social Login Accounts
The removal process of both registered and social logged in users are same. You just contact our support by clicking support link on MyExamCloud app or by sending email to support at epractizelabs.com. Remember that the data once removed cannot be recovered since we are not keeping your records without your permission. Take backup of your Study Plan reports and invoices before deleting your account.
Account Termination Policy
MyExamCloud will terminate a user's access to the Service if, under appropriate circumstances, the user is determined to be a repeat infringer.
MyExamCloud reserves the right to decide whether Content violates these Terms of Service for reasons other than copyright infringement, such as, but not limited to, pornography, obscenity, or excessive length. MyExamCloud may at any time, without prior notice and in its sole discretion, remove such Content and/or terminate a user's account for submitting such material in violation of these Terms of Service. We will warn the user for the first time and next time the user will be banned from MyExamCloud access.
Personal Information Collected Automatically:
We receive and store certain types of usage related information whenever you interact with Application. For example, EPractize Labs Software Private Limited may automatically receive and record information regarding your computer's IP address and browser details to monitor illegal access to our App contents. We do not collect your other details like browsing history or cookies generated by other Apps.
HOW DOES MyExamCloud USE THE INFORMATION IT COLLECTS?
EPractize Labs Software Privated Limited uses the information described in this Privacy Statement (i) internally, to analyze, develop and improve its products and services, and (ii) EPractize Labs Software Private Limited will not share these details to any other third parties.
WILL MyExamCloud SHARE ANY OF THE PERSONAL INFORMATION IT RECEIVES?
Personal information about our users are only used to track our customers and services they are using. We do not share these details to others.
CONDITIONS OF USE.
If you decide to use or otherwise access the Application, your use/access and any possible dispute over privacy is subject to this Privacy Statement and our Terms of Use, including limitations on damages, arbitration of disputes, and application of Indian court law.
WHAT PERSONAL INFORMATION CAN I ACCESS?
EPractize Labs Software Private Limited allows you to access the following information about you for the purpose of viewing, and in certain situations, updating that information. This list may change in the event the Application changes.
- MyExamCloud App Guest access to home page.
- MyExamCloud App Guest access to search page.
- MyExamCloud App Guest access to courses page.
- MyExamCloud App Guest access to any course page.

CAN CHILDREN USE THE APPLICATION?
Our site and the services available through EPractize Labs Software Private Limited includes children under the age of 13. EPractize Labs Software does not knowingly or specifically collect information about children under the age of 13 and believes that children of any age should get their parents' consent before giving out any personal information. We encourage you to participate in your child's web experience.
CHANGES TO THIS PRIVACY STATEMENT.
EPractize Labs Software Private Limited may amend this Privacy Statement from time to time. Use of information we collect now is subject to the Privacy Statement in effect at the time such information is used. If we make changes in the way we use personal information, we will notify you by posting an announcement on our Site or sending you an email. Users are bound by any changes to the Privacy Statement when he or she uses or otherwise accesses the Application after such changes have been first posted.
QUESTIONS OR CONCERNS.
If you have any questions or concerns regarding privacy on our Website, please send us a detailed message at privacy@epractizelabs.com. We will make every effort to resolve your concerns.
Effective Date: January 1, 2011
MyExamCloud Cookie Policy
Our Cookie Policy explains:
Cookies and tracking technologies are small text files stored on your device when you use a web browser. We use this data to give you the best experience.
We use essential cookies to make our app work for you. For example, essential cookies let you securely sign in and browse our site. These cookies help us keep your account safe and prevent fraud.
We use localStorage to save website or navigation information.